Principal's
Message

!!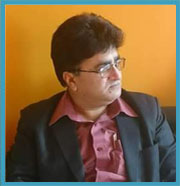 "Educate and raise the masses and thus alone a nation is possible"
I feel honored to serve the student community through this center of high intellectual repute as I have joined as principal in this college in the month of April, 2018. Still this college is in infancy and we have to face many challenges and opportunities as these are two sides of same coin. There is need of holistic development of person, empowerment of students for their all round development through education is our motto. Today education means much more than merely acquiring knowledge; it is acquisition of knowledge and skills, building character and improving employability of our young talent. With the guidance of able teachers and administrative staff students will reach their port of dreams. I am proud of being the principal of such wonderful institution dedicated to the cause of better human beings. I promise, I shall carry forward the mission of providing better academics in a perfectly disciplined atmosphere. Let us give our best and make this institution a modern temple of learning and diligence, devotion and dedication. we are committed to provide all possible guidance to the new aspirants being admitted in this college. This institution offers courses at under - graduate level in Science, Arts, Commerce, BBA and Computer applications.
In the end, keeping in mind the spirit and the philosophy behind the college, I look forward to put our integrated efforts together and receive the cooperation from teachers, parents, students, alumni to achieve academic excellence and create environmental awareness among students. My good wishes for students, teaching and non-teaching staff of the college.
Vision/Mission
Vision

Govt. Degree College Ramnagar envisions to be an institute committed to pursuit of academic excellence . It aims to broaden its traditional progressive vision to regularly stay updated through research and by use of the latest technology.
The Govt.Degree College Ramnagar plans to position itself as a premier institution of the state by fostering a challenging, enlightened and collaborative academic environment that demands excellence and encourages innovative education. In this context, the college's mission is to: Provide students with a broad and exceptional education that prepares them to excel in their respective lives and to become creative mentors in an increasingly complex world.To serve the Nation and beyond by preparing students to make meaningful contribution .in the society by encouraging reflection on and evaluation of emerging needs that enhance economic, social and cultural development. Last but not the least this young college envisions to impart quality Education to conquer the heights of ignorance, superstition and injustice, and usher this otherwise remote area of the state into a dawn of enlightenment, knowledge and social reformation.